About Us
CBH Care provides community-based mental and behavioral health services in Northern New Jersey treating individuals, families and providing mental health resources to communities.
Meeting the Highest Standards of Mental and Behavioral Outpatient Healthcare – CARF Accreditation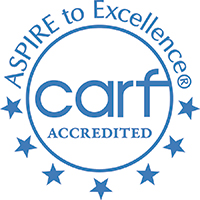 CBH Care received a 3-year accreditation from Commission on Accreditation of Rehabilitation Facilities (or CARF international), an industry-leading accreditor.
CARF conducted an on-site survey of CBH, and determined that CBH met the highest standards of mental and behavioral outpatient healthcare. Achieving accreditation requires a service provider to commit to quality improvement, focus on the unique needs of each person the provider serves, and monitor the results of services.
This accreditation demonstrates CBH Care's continual commitment to excellence and being a leader in behavioral healthcare services in Northern New Jersey. 
To learn more about CARF accreditation visit www.CARF.org
History
The late 1960s were a tumultuous period in our nation's history. The Vietnam War was still raging, student protests were riveting college campuses, the shock of two high-profile assassinations were a gut-punch to Americans everywhere, and, like today, a wide-spread drug abuse problem weighed heavily on families and communities from coast to coast.
Such was the backdrop in 1969 when, faced with questions and concerns regarding substance abuse in his own congregation, Father Edward Hajduk, a parish priest at Sacred Heart Church in Lyndhurst, asked the Junior Women's Club of Lyndhurst and president Eileen Becker to undertake a service project to survey the increasing needs of the community.
With the results of their survey in hand, it wasn't long before Junior Women's Club members found themselves in the office of the County Mental Health Director who suggested they start a community mental health center as a way to begin addressing the problem. Out of a meeting that included concerned citizens, social workers and clinicians, plans were drawn to create a mental health center in southern Bergen County.
From humble beginnings to the most successful community mental health program in North Jersey.
The South Bergen Mental Health Center became a reality in 1969, with many members of the Lyndhurst Junior Women's Club seated on the original board of trustees. Indeed, to this day Mrs. Becker and her family remain dedicated supporters of the agency.
As our service offerings expanded to meet the growing mental health care needs of the community, South Bergen Mental Health Center became Comprehensive Behavioral Healthcare (now CBH Care), which has grown to become the premier mental and behavioral health provider in Northern New Jersey.
CBH Care supports outpatient and partial care patients at our service locations in Hackensack (adult) and Lyndhurst (geriatric); in addition to outpatient and urgent care at our facility in Westwood. We serve nearly 4000 children, adults and seniors every year. In addition, we operate residential facilities in Morris Plains, Emerson, Hackensack, Kearny, Lyndhurst, Rutherford and Fairview, providing beds for nearly 200 people every night.
In 2019, CBH Care celebrates our 50th anniversary.
Our long record of compassionate care and focus on the individual has made us recognized experts in our field. Moreover, our long-term experience helps us fulfill our mission of assisting individuals with mental illness by linking them with the highest quality support they need to promote wellness in their lives.
To learn more or get help for you or a loved one:
To schedule a same day appointment, call our confidential ACCESS CENTER: (201) 646-0195
For help with an urgent mental health crisis, call our 24/7 Urgent Care & Early Intervention center: (201) 957-1800
If you are having a mental health EMERGENCY, call (201) 262-HELP (4357) - anytime 24/7