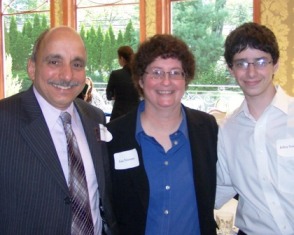 Washington Twp, NJ (May 19, 2009) The Bergen County Mental Health Board and the mental health service providers from the county hosted the second annual Countywide Mental Health Advocacy Breakfast Tuesday morning. The co-hosting providers were Bergen's Promise, Care Plus NJ, Christian Health Care Center, Comprehensive Behavioral Healthcare, North Jersey Friendship House, Vantage Health System and West Bergen Mental Healthcare.
Among the attendees were emcees Susan Donnelly, Chair of the Bergen County Mental Health Board and Michael J. Tozzoli, LCSW, CEO of West Bergen Mental Healthcare; Assemblywoman Charlotte Vandervalk (R-39th District); Kevin Martone, Deputy Commissioner, Department of Human Services (DHS); Brian Hancock, Deputy Director, Division of Child Behavioral Health Services (DCBHS); Dennis McNerney, County Executive; Hansel Asmar, Department of Health Director for Bergen County; and Freeholder Vernon Walton.
DHS Deputy Commissioner Martone and DCBHS Deputy Director Hancock discussed the economic challenges affecting everyone throughout New Jersey and addressed the concerns of local mental health service providers who depend upon state contracts to provide much needed services to county residents. Powerful, touching presentations were given by Todd A. Smith, author of I Pledge Allegiance, a novel that focuses on the struggles faced by thousands of homeless veterans; Lisa Yourman and her teenage son, Jeffrey, who have found strength, voice and self-empowerment in coping with cystic fibrosis and mental health challenges with the support of Bergen's Promise, the county's care management organization; and Staff Sergeant Vincent Micco, Counter Intelligence Agent, Bravo Company 325th Military Intelligence Battalion, who noted that the Army has recently come a long way in mental health awareness, but that the community still depends on the local service providers for assistance and support, particularly during these difficult times.
Bergen County's community mental health service agencies are dedicated to providing superior behavioral healthcare services to all area residents. Community mental health centers are private, non-profit organizations that receive government funds to serve residents in need of care. Fees are available on a sliding scale, based on ability to pay (check with your service provider for details). Services may include: individual and family counseling; group therapy; psychiatric evaluation; medication assessment; monitoring; specialized day programs; prevocational and vocational rehabilitation, supportive employment and job coaching; and housing. For more information please visit www.bergenhealth.org.