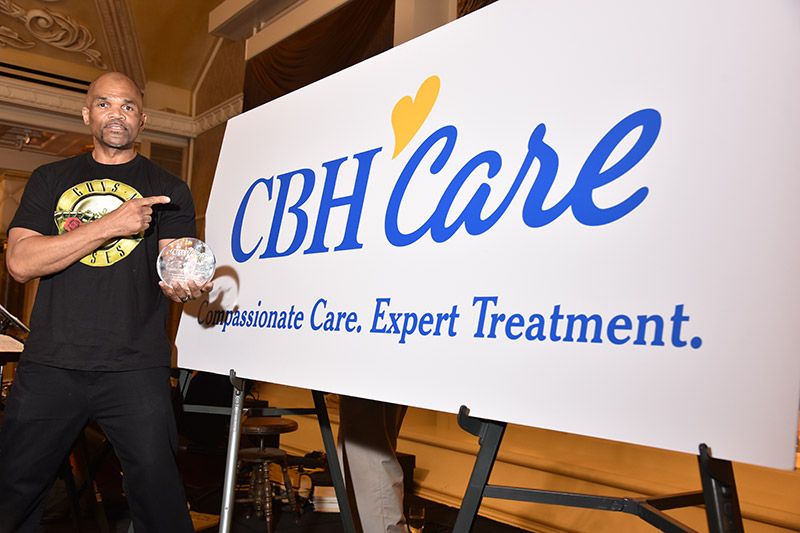 CBH Care, the community-based mental health-focused non-profit that has served the greater Bergen County area for 50 years, hosted its 8th Annual Culinary Adventure Food & Wine Tasting Monday night, with special guest, mental health advocate and Grammy award winning Darryl "DMC" McDaniels, of Run-DMC. McDaniels was honored with the Spirit of Caring award.
The annual gala event, which had food and wine from nearly 100 vendors, was attended by nearly 400 supporters, including local and federal elected officials. Darryl McDaniels signed copies of his memoir and spoke at length with attendees before and during the gala.
"I am proud to work with CBH Care in promoting mental health awareness, especially during Mental Health Awareness Month," said Darryl McDaniels. "Most individuals with chronic mental health conditions thrive when they receive the proper counseling or medication, and organizations like CBH Care play a critical role in keeping our communities healthy. I know from experience that if you remove the guilt and shame, you remove the pain."
A resident of Northern New Jersey, McDaniels has been very open about his history of alcoholism, anxiety and panic attacks, and has credited therapy with literally saving his life. He became aware in 2001 that he was suppressing his feelings of depression and isolation, and has since worked to debunk stereotypes that seeking therapy or admitting feeling vulnerable is a sign of weakness.
"May is Mental Health Awareness Month, and our Culinary Adventure Food and Wine Tasting event is a way to thank our staff and supporters for the amazing work they do throughout the year, and introduce other people to the programs we offer to thousands of Northern New Jersey residents throughout the year to promote mental health," said CBH Care Executive Director Sue Devlin. "We were thrilled to have Darryl McDaniels at our event this year, which has been a treat for our staff and consumers who have gotten to spend time with him. Darryl understands the importance of proper mental health care, and is a wonderful advocate."
Mental health disorders affect an estimated 5 million school-aged children, but only 20-25% receive the needed therapy and/or medication to control their disorders. CBH Care's Partial Care Program for adolescents help a variety of adolescents. CBH Care programs include Adult Partial Care and Geriatric Partial Care, which utilize traditional methods as well as pet therapy, music therapy, and medication to help individuals meet their mental health goals.
To schedule an appointment with any CBH Care program or get assistance with medical needs, residents are encouraged to call the CBH Care confidential Access Center at 201-646-0195.