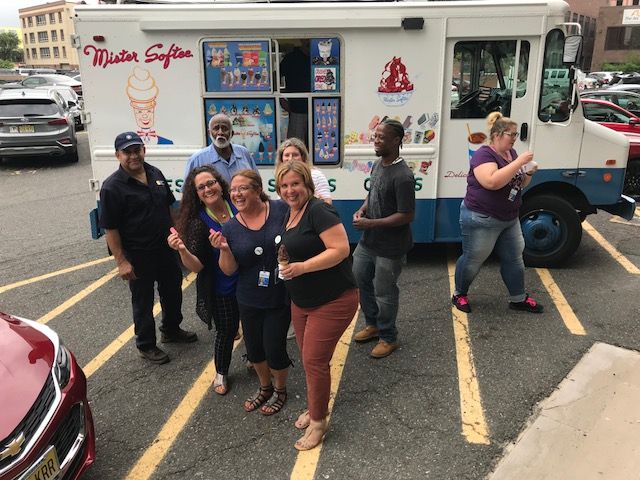 HACKENSACK, NJ -- CBH Care, a leading mental and behavioral healthcare non-profit that operates three facilities in Bergen County, treated their staff at all three locations to fresh ice cream from a Mr. Softee truck. The ice cream vendor visited Hackensack and Lyndhurst facilities on Tuesday and Westwood today, all expenses paid by CBH Care.
"Our dedicated staff works so hard throughout the year to provide all our consumers, their families, and partnering agencies support services to better serve the greater Northern New Jersey area, and destigmatize mental illness," said CBH Care Executive Director Sue Devlin. "This was a banner year for us as an organization, as we've expanded strategic partnerships, lead countless trainings, and continued to provide top-notch services to residents and their families, so we felt that delivering ice cream in August was a nice way to show gratitude to staff and consumers at our three main facilities."
CBH Care staff currently facilitates the Bergen County Intensive Family Support Services (IFSS) program service for the families of relatives with mental illness. The program is based on the knowledge that family members often take an active role in caring for their mentally ill relative. The program operates out of New Bridge Medical Center. For more information, family members of individuals with mental illnesses can call (201) 296-6011.
The Hackensack facility, where the New Directions behavioral healthcare program for adolescents, and Adult Partial Care programs are held, is located at 25 E. Salem St. Hackensack, and can be reached at (201) 646-0195. The Lyndhurst facility, where many Geriatric Partial Care programs operate out of, is located at 516 Valley Brook Ave, Lyndhurst, NJ 07071 and can be reached at (201) 935-3322. The Westwood facility, which provides emergency care services to individuals experiencing a mental health crisis, is located at 569 Broadway, Westwood, NJ 07675. Their 24/7 emergency phone number is (201) 957-1800.