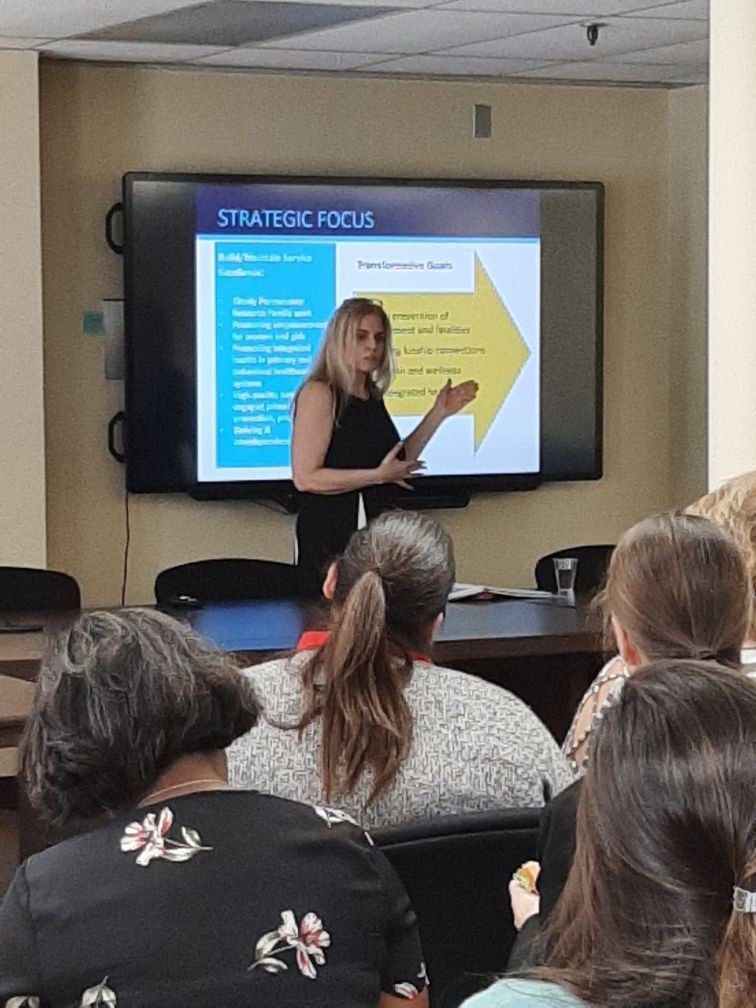 HACKENSACK, NJ -- Thursday afternoon, the mental and behavioral non-profit health provider CBH Care was visited by special guest, Assistant Commissioner of the NJ Department of Children and Families, Mollie Greene, for an afternoon of presentations around the services and supports available to New Jersey's families.
Assistant Commissioner Greene joined mental health leaders from throughout Bergen County at the "lunch and learn" session sponsored by CBH Care at the Bergen County Sheriff & Community Services Building in Paramus.  At the learning session, Asst. Commissioner Greene spoke about the State of New Jersey's priorities for children and youth with mental health and substance use challenges, and intellectual and developmental disabilities, and heard from these youth, their families, and support systems, about their needs.
After the lunchtime learning session, Asst. Commissioner Greene visited with CBH Care's New Directions program, an after-school program for 12-17 year-olds in the greater Bergen County area, which is one of a few of its kind in the state. The program meets year-round, Mondays through Thursdays from 4:00-7:15pm, and offers group therapy sessions and activities for youth. Some participants come in all four days, while others attend less often. Many participants are referred by Bergen County's Care Manager Organization. Transportation is provided for all participants, and the program has special resources and space for adolescents with developmental disabilities or enhanced needs.
"Community-based organizations like CBH Care are vital partners in statewide efforts to promote mental and behavioral well-being," said NJ DCF Assistant Commissioner Mollie Greene, who oversees the Division of Children's System of Care. "Program like these allow kids to work individually and in groups to address problems in their home or school life, and empower them to live healthy lifestyles. It was apparent from today's visit how valuable these programs are in supporting and empowering youth and young adults."
During her tour of Bergen County, Assistant Commissioner Greene also visited the Children's Crisis Intervention Services [CCIS] Unit at New Bridge Medical Center in Paramus, speaking with administrators and direct care staff there. 
The Children's System of Care is responsible for contracting for a broad array of residential treatment services  for children and youth such as CBH Care's Adolescent Residential program in Kearny (KARE) , where a maximum of nine adolescents with behavioral health needs can take steps toward recovery in a home-like setting.  "The Children's System of Care is an integral component to meet the emotional, behavioral, substance use treatment and developmental needs of New Jersey's children and their families. We appreciate Assistant Commissioner Greene's commitment to children, and her partnership with programs that cater to the needs of kids and adolescents," said CBH Care Executive Director Sue Devlin. 
More information about the New Directions program is available online or by calling CBH Care at 201-646-0195. 
To report child abuse or neglect, please call the hotline at 1-877-NJ ABUSE (652-2873).  To contact the Children's System of Care, 24 hours a day, 7 days a week, call 1-877-652-7624