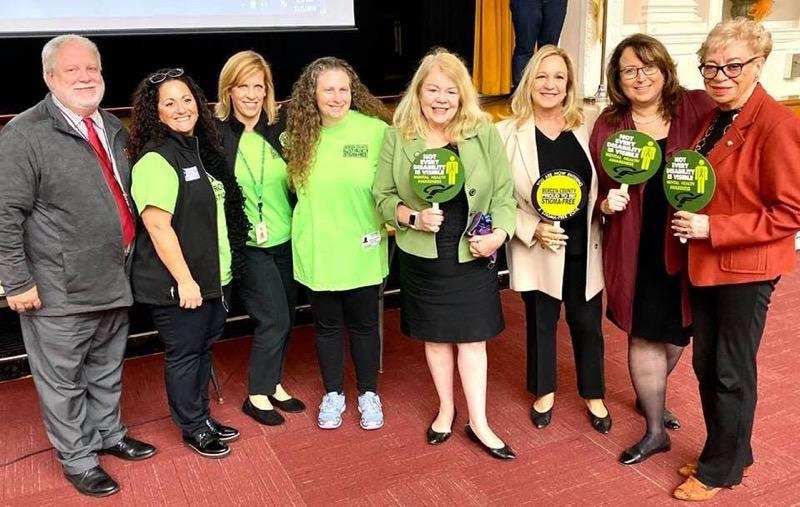 HACKENSACK, NJ — On Friday November 1, CBH Care provided mental health first aid (MHFA) training to over 100 10th grade students at Fort Lee High School, as part of Bergen County's pilot program for teen Mental Health First Aid training. Students learned about common mental health challenges and how they can support their own mental wellness as well that of their peers. 
"I am thankful to Fort Lee High School for inviting us into their school to provide crucial mental health training to students, and excited to participate in the County's pilot program" said CBH Care Executive Director Susan Devlin. "CBH Care routinely provides these mental health trainings as part of our commitment to educating the public. Our hope is that we will be able to lower the number crises and suicides in addition to ending the stigma against mental illness."
Teen MHFA reduces stigma and teaches teens when it is necessary to involve a trusted adult.  Students learn a 5 step plan to help their friends who may be facing a mental health problem or crisis, such as suicide. The Bergen County pilot program follows legislation signed into law by Governor Phil Murphy requiring schools to incorporate mental health education into the state's standard curriculum.
The Fort Lee High School students were shown a video of Lady Gaga who is a huge supporter of this program through her Born This Way Foundation, which contributed funding for this initiative, along with the National Council for Behavioral Health. 
"Bergen County is the only county in New Jersey to declare itself Stigma-Free," said County Executive Jim Tedesco. "Now that all 70 municipalities have taken steps to address mental health awareness, it is important that we start teaching our children about mental health first aid so they can lead happier, healthier lives. I want to thank Lady Gaga's Born This Way Foundation and the National Council for Behavioral Health for this funding and their willingness to work with Fort Lee High School on this important teen mental first aid initiative."
Other dignitaries in attendance for the Fort Lee High School training included: NJ Assemblywoman Valerie Vainieri Huttle; Bergen County Freeholders Mary Amoroso, Tracy Zur Bergen County Freeholder and Dr. Joan Voss; Superintendent of Fort Lee Public School Kenneth Rota; Bergen County Division of Mental Health Services Coordinator Michele Hart Loghlin; and Bergen County Mental health Services MHFA Coordinator Stephanie Hartman.