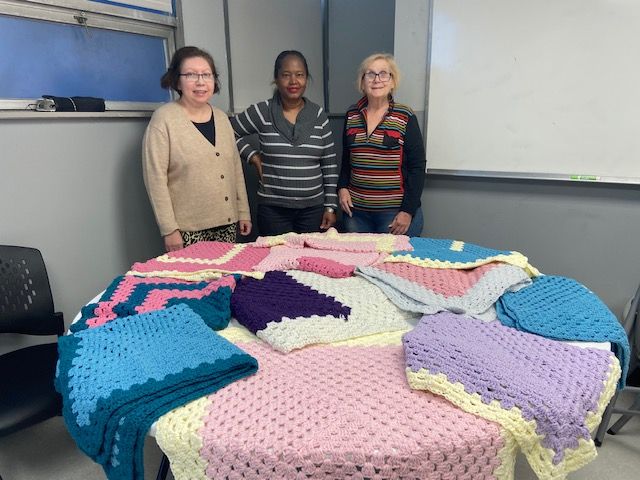 HACKENSACK, NJ -- Saturday morning's Annual Caring Community Event, held at Christ Church, provided hundreds of people with free meals, live entertainment, and dozens of crocheted blankets, courtesy of members of CBH Care's Crochet and Knitting group. The group meets as a part of CBH Care's Adult Partial Care daily program in Hackensack, and members are always looking for ways to give back and make a positive difference in their community.
"We're just so proud of the Crochet and Knitting group for deciding to use their talents to help others. Giving back is why we operate the programs we operate throughout Bergen County, and our consumers who struggle with mental and behavioral issues understand the role that resources some people may take for granted play in preventing crises," said CBH Care Director of Development Nicole Chiarello. "I would like to thank Collection Drive and Giving Corner Coordinator Kayla Loughlin and everyone who helped organize the event and donated items to the Giving Corner."
"30 years ago, a few people volunteered to make and serve a holiday meal and ensure our Bergen County neighbors had necessities. Since then, Bergen County has added more events and year-round services which is how we've ended Veteran homeless in the County," explained the event organizers, Michele Hart-Loughlin and Judy Banes. "At Saturday's annual event, we served over 300 meals. It is an amazing experience to see people coming together just to help and be with each other, and I want to thank CBH Care's leadership and APC Crochet and Knitting group for their participation and support."
Members of the APC Knitting and Crochet group made 30 warm blankets for this event. To learn more about CBH Care's APC program, visit https://cbhcare.com/programs/partial-care-rehabilitation/adult-partial-care.html or call CBH Care (201) 646-0333 to learn about their outpatient programs for people of all ages.