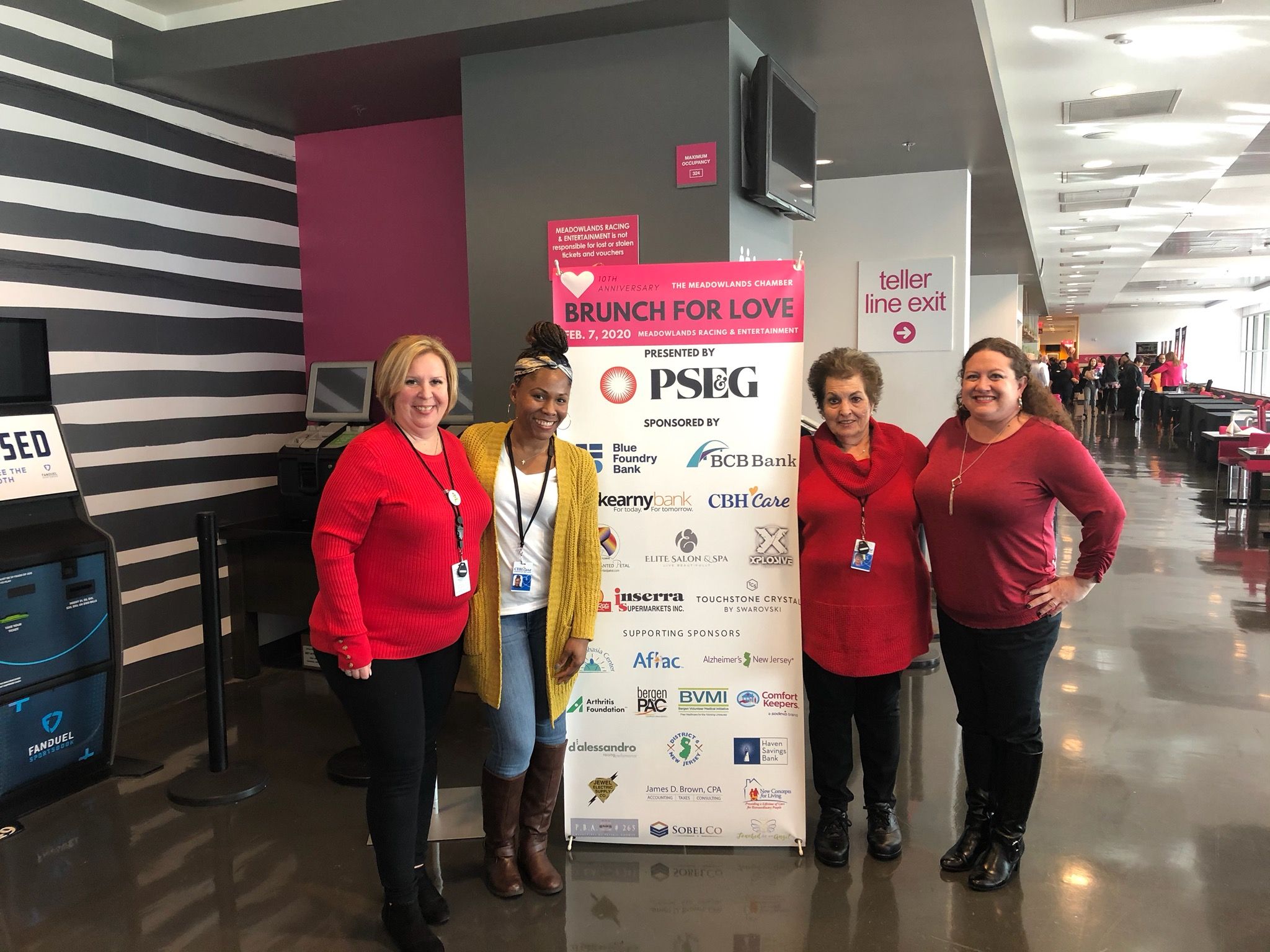 February is often associated with romantic love, but the Meadowlands Chamber and its member organizations including CBH Care have made raising money to support good causes and charities in New Jersey the target of Cupid's arrow. 
Held at the Meadowlands Racing & Entertainment, Brunch For Love was attended by nearly 200 local business leaders and representatives. Presented by PSEG and sponsored by CBH Care, BCB Bank, Inserra Supermarkets, Blue Foundry Bank, The Enchanted Petal, Touchstone Crystal, Elite Spa & Salon, Kearny Bank and Explosive Entertainment, the brunch event benefitted Adler Aphasia Center, Alzheimer's New Jersey, Bergen PAC, Boys Scouts of America, Bergen Volunteer Center, Bergen Volunteer Medical Initiative, CBH Care, District 6 Little League, Girl Scouts of Northern New Jersey, Meadowlands Area YMCA, New Concepts for Living and Touched by an Angel. 
"The Meadowlands Chamber is a great way for nonprofits to meet with business leaders and share exactly how much their services benefit members of our community. Many of these businesses have social entrepreneurial arms of business and really want to give back," said Denise Morelli, CBH Care Development Associate and Meadowlands Chamber Nonprofit Committee Co-Chair. "We appreciate everyone's contributions to CBH Care and other local nonprofits that make real differences in people's lives."
CBH Care is a non-profit mental and behavioral healthcare provider that serves 350 consumers daily through its after-school adolescent group therapeutic programs, afternoon adult and geriatric programs, and intensive community-based residential treatment programs designed to assist adolescents and adults with serious psychiatric issues which may have resulted in hospitalization or out-of-home placement. CBH Care also offers trainings in Mental Health First Aid, Stress & Anxiety Management and the Nurtured Heart Approach.
"Brunch For Love is an important program for the Chamber, as well as the greater Meadowlands region," said Meadowlands Chamber CEO Jim Kirkos. "Nonprofits make up a large segment of New Jersey's workforce and the Meadowlands Nonprofit Committee is in place to help these members collaborate and partner for their individual and common goals. We are proud to do what we can to help raise funds and promote awareness about the great work each individual nonprofit is doing to improve the quality of life here in the Meadowlands."
CBH Care partners with the Meadowlands Chamber year-round, including on the Chamber's annual 501c Trees event in December and its Nonprofit Committee. The Chamber's first Brunch for Love took place in 2011 and has since raised over $50,000.